This past week I was on vacation with my family. I read two baby books which I would like to share with you. The first is
The Happiest Baby
on the Block
by Harvey
Karp
. This book offers excellent tips on how to help calm and relax a new born baby when he/she is upset. The "5 S's" are what Dr.
Karp
suggests for calming one's baby. The "5 S's" include:
-swaddling

-swinging

-shushing sound
-side/stomach position
-sucking
Using one or more of these techniques will help to make the baby feel secure, comfortable and calm. They are also excellent techniques to use when putting your baby to sleep. Visit
http://www.thehappiestbaby.com/
for more information on the book and the techniques mentioned! I can't wait to become a mom so I can put Dr. Karp's words into action!
I also read a couple chapters of
Buy Buy Baby: How consumer culture manipulates parents and harms young minds
by Susan Gregory Thomas. I am often aware of the fact that as Americans we live in a culture of excess where commercialism tends to be the norm. For example, walking into Babies
R'Us
for the first time was overwhelming! There are a million toys, gadgets,
gizmos
, etc. etc. Society has made us think that more is better! After reading this book I was able to better see inside the minds of the consumer giants such as Mattel and Fisher Price who market materials to parents and babies. Thomas brought up two interesting points that are worth highlighting:
1.) DVDs and video games for children under the age of 3 are overstimulating and
unnecessary
. As a result children are not learning how to use their imagination and to play creatively on his/her own.
2.) Children associate with characters such as Dora the Explorer and Barney. Children than begin to want anything and everything that is associated with these characters (tooth brushes, books, cereal, etc.). Children are being targeted and viewed as ways to earn more money for consumer companies.

This book is a must read for every parent! The mantra enough is enough rings true and should be heeded!
The Master Butcher's Singing Club
by Louise
Erdrich
was the third and final book I read this past week. I started out not enjoying the book. After the third chapter I was even tempted to put the book down and never pick it
u
p
again. Luckily, however, I was patient (which is unusual for me) and I continued reading.
The novel traces the life stories of
Fidelis
, a German butcher and Delphine, an attractive traveling performer.
As a side note: the word

fidelis

means "faithful" in Latin and Delphine means "calmness" in Greek
. Unforeseen life circumstances allow
Fidelis
and Delphine's paths to collide in the small
town
of
Arugus
, North Dakota. Murders, illnesses, tragedies and disappointments circle around this small town to seemingly no end. As the reader we
desperately
want both
Fidelis
and Delphine to find happiness and contentment. The book is set between the difficult and trying years between WWI and WWII.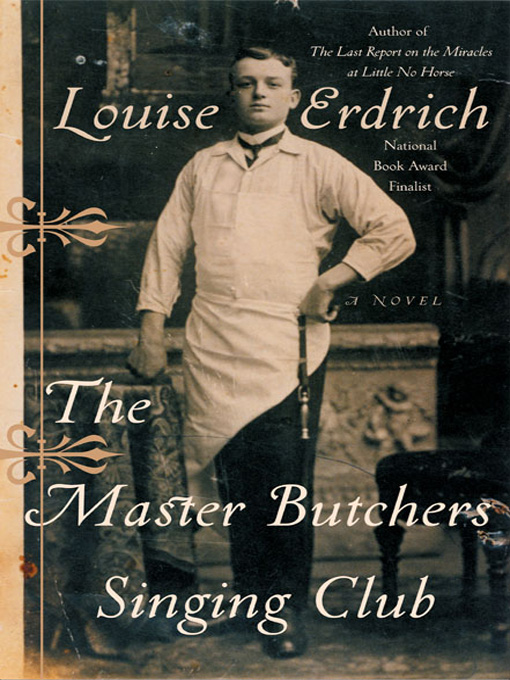 The novel is well written and executed. I would recommend this book to anyone who enjoys reading historical fiction and subtle, not overly dramatic love stories.